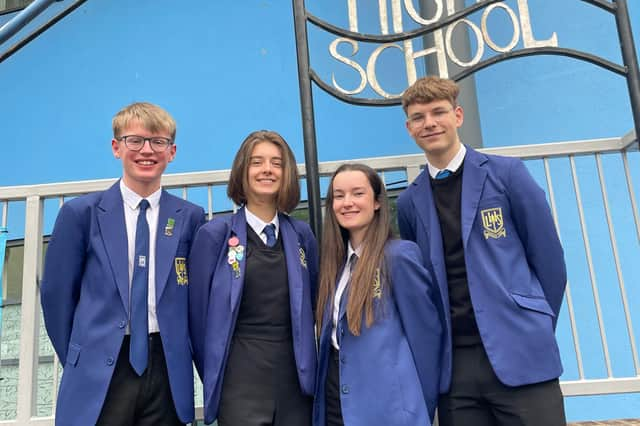 From left, Larbert High duxes Lewis Gillespie and Sophie Calderwood with proxime accessits Meaghan Roy and Frazer Laing.
In a similar set up to 2020, the pandemic meant the ceremonies could not take place in the auditorium, however they were held virtually for the whole school community to enjoy.
The junior prizes were handed over on Wednesday, with the senior awards presented the following day.
Rector, Jon Reid, told those watching online that the school's young people have "absolutely kicked Covid out of the park with another outstanding set of achievements" this year.
Among the secondary school's successes were national recognition at the UK Into Film Awards and being confirmed as the very first Gold level SCQF School Ambassador in Scotland.
He continued: "This is a celebration of the very best of Larbert High School and recognition of the importance that we attach to both academic attainment and wider achievement.
"I'm quite sure you will be, like me, in awe of the stunning, broad range of achievements that you will only ever see in a school like Larbert High."
He added his congratulations to all of the prize winners: "Well done to each and every one of you, and also to the 'team' that has supported you on your way, whoever that may be.
"Your teachers, your parents, your family and your friends: all of the hard work, commitment and effort over the course of the last year has really paid off."
The duxes for 2020/21 are Sophie Calderwood and Lewis Gillespie.
During her time at Larbert High, Sophie achieved seven National 5, seven Higher and two Advanced Higher qualifications - all at grade A. Her passion for STEM has been evident through her time at the school and she has a flair for English and Art. Sophie is going to study Physics with Astrophysics at the University of Glasgow
Lewis achieved five National 5, six Higher and three Advanced Higher qualifications – all at grade A. His aptitude for maths has been clear since early on in his school career and his love of the subject makes him an excellent tutor, sharing his expertise with a number of students. He is starting a degree in Mathematics at the University of Edinburgh.
There are two proxime accessits this year, Frazer Laing studying Astrophysics at the University of Edinburgh, and Meaghan Roy studying Medicine at the University of Edinburgh.
Prize ListSubject awards, National 5: Practical Metalwork – Arnold Caikovskij; Chemistry – Kathryn Carson-Brown; Music Technology – Kathryn Carson-Brown; Modern Studies – Charlotte Clem; Practical Cookery – Bethany Condie; French – Summer Cook; Scottish Studies – Bethany Cruse; French – Grace Cuthbertson; Cake Craft – Nina D'Ambrosio; Design & Manufacture – Andrew Dingwall; Music – Ella Dowell; Physical Education – Sam Friar; English – Robyn Gargan; History – Robyn Gargan; Physical Education – Robyn Gargan; Environmental Science – Erin Henderson; Geography – Erin Henderson; Music – Erin Henderson; English – William Lawless; German – William Lawless; Computing – Robbie McBain; Graphic Communication – Murray McGillivray; Media – Jai McLaughlan; History – Grace Ogg; RMPS – Grace Ogg; Art – Melissa Oliver; Health & Food Technology – Melissa Oliver; Computing – Esme Ong; English – Gabrielle Pascoe; Drama – Lisa Rennie; Chemistry – Liwia Reucka; Spanish – Sophie Rollin; Application of Mathematics – Jack Scharer; Practical Woodwork – Jack Seton; Mathematics – Cameron Shaw; Physics – Cameron Shaw; Biology – Eva Simpson; ESOL – Wanida Sittisung; Practical Metalwork – Steven Thomson. Higher: Photography – Louise Cade; Physics – Louise Cade; Art – Sophie Calderwood; Business – Rachel Conroy; Spanish – Grace Cuthbertson; Philosophy – Aimee David; Art – Connor Draycott; History – Rachel Duff; Graphic Communication – Flynn Hemsley; School of Media – Erin Henderson; Art – Marnie Izatt; English – Marnie Izatt; French – Marnie Izatt; Geography – Marnie Izatt; Physics – Uzair Khan; English – Amy Leslie; Modern Studies – Amy Leslie; Media – Iona MacMillan; RMPS – Iona MacMillan; Classics – Alex Mardon; German – Catherine Mason; Music – Aiden McKeever; Music Technology – Aiden McKeever; Human Biology – Holly Mitchell; Politics – Tilly O'Donnell; Psychology – Meaghan Roy; Design & Manufacture – Sebastian Skierski; ESOL – Sebastian Skierski; Drama – Ellie Stenton; Italian – Connor Stevenson; Physical Education – Aimee Thompson; HFT – Zoe Tulloch; Dance – Natasha Wilson; Biology – Michelle Yu; Chemistry – Michelle Yu; English – Michelle Yu; Mathematics – Michelle Yu. Advanced Higher: Art – Heather Anderson; Drama – Daisy Campbell; Geography – Aimee David; English – Perrie Harvey; French – Perrie Harvey; Spanish – Perrie Harvey; History – Frazer Laing; Chemistry – Kyle McGillivray; Mathematics – Kyle McGillivray; Physics – Kyle McGillivray; German – Fiona Murphy; Biology – Meaghan Roy; Music – Amy Thomson. Senior (S4-6) Special: The Mary Ann Laing Award for Writing about Literature – Louise Cade; Community Service Award for Lady Business – Elle Rose Fotheringham, Tilly O'Donnell, Meredith Rae, Abby Reid; The Concrete Society Scotland Design Award – Alastair Paterson; The Kiran's Trust Scholarship for Art & Design – Marnie Izatt ; Kiran Martin Award for Creative Writing – Michelle Yu; Jessie Kidd Award for Photography – Callum Stewart; Kiran Martin Award for Creative Art – Kyra Ho; Kiran Martin Award for Music – Kofi Osei; The John Ritchie Memorial Award – William Lawless; The Patron of Reading Award – Esme Ong; The Bill Graham Memorial Award – Ellie Stenton; The George T Kordas Memorial Award for Languages – Connor Stevenson; Wheatsheaf Burns Club Prize – Grace Tailford; The Rollo Family Award – Ewan Aiken; Syngenta Award – Erin Hendry; The RSH Award – Erin McCrossan; The Jubilee Award – Natasha Wilson; The Harold Hourston Award – Ross Laird; The J Findlay Russell Award – Erin Shaw; S4 Sports Award sponsored by Stenhousemuir FC – Niamh Robertson-Jack; S5 Sports Award sponsored by Stenhousemuir FC – Ross Laird; S6 Sports Award sponsored by Stenhousemuir FC – Rebecca Melville; The Tryst Community Sports Club Award – Jay Dickson; Sound Engineering Award – Aiden McKeever; School Productions – Daisy Campbell; Excellence in Mathematics – Murray Hunter, Jayme O'Reilly, Alastair Paterson; Proxime Accessit of Larbert High School – Frazer Laing, Meaghan Roy; Dux of Larbert High School – Sophie Calderwood, Lewis Gillespie; The Rectors Award, School Captain – Steven Marshall, Sophie Nicol; School Vice-Captain – Lewis Gillespie, Abby Reid, Ellie Stenton, Callum Stewart; Star STEM Ambassador – Zara Cowan, Katie Ferguson, Faiza Javaid, Kyle McGillivray, Meaghan Roy; Strathcarron Film and Upcycling through Community Arts – Heather Anderson, Louise Cade, Ryan Hunt, Jemma McDowall; Parent Council Parents in Partnership Award – Isabella Batchelor, Murray Hunter, Norman Newlands, Megan Newlands. The Star Achievers Award in S5: Achieved Five Highers – Sophie Allan, Amber Burrow, Nathan Campbell, Martha Jayne Cowan, Matthew Davidson, Elena Devlin, Lewis Finlay, Jamie Gould, Liam Hepburn, Murray Hunter, Kieran Jamieson, Amy Joyce, Morgan Kirkpatrick, Ross Laird, Catherine Mason, Christopher McDonald, Zoe McGuckin, William Miller, Olivia Morton, Dominic Ray, Emma Simpson, Catriona Small, Lauren Stuart, James Stupart, Ellie Tetsill, Aidan Thewlis, Aimee Thompson, Anas Turki, Sarah Williamson, Gabby Wilson; Achieved Five Highers at A Grade – Marcus Budd, Tegan Carty, Kasia Erm, Olivia Gardner, Lucas Grieve, Rebecca Karpinski, Rory Law, Taliah Lee, Nicola Ramsay, Hollie Renwick, Corey Sharp, Skye Watson, Gary Whigham, Caitlin Wilson, Michelle Yu; Achieved more than Five Highers – Abi Clark, Amaris Cuthbert, Charlotte D'Alby, Jonathan Faulks, Hannah Forsyth, Neve Hogg, Kacey MacPherson, Holly McKie, Ben McRoberts, Kirsty Melville, Rachel Oatway, Sebastian Skierski, Jake Stott, Orla Whelan, Isla Williams; Achieved more than Five Highers at A Grade – Louise Cade, Niamh Campbell, Olivia Fawkes, Rebecca Gray, Marnie Izatt, Sara Jack, Uzair Khan, Amy Leslie, Eva McKie, Emma Miller, Holly Mitchell, Isla Simpson, Connor Stevenson, Natasha Wilson, Zoe Yeaman. Star Achievers Award in S6: Achieved three Advanced Highers – Lee Grogan, Megan Kennedy, Callum Lloyd, Alex Mardon, Alexandra Sardzikova, Ashleigh Wannan, Lewis Gillespie, Perrie Harvey, Frazer Laing, Kyle McGillivray. HNC in Computing – Heather Anderson, Kyle Hannah, Ewan Kane, Colin McDonagh. HNC in Police Studies – Caden Bell, Ben Gavigan, Cara Hair, Robbie Macdonald, Nicole MacMillan, Greg Wotherspoon; HNC in Dance – Nina D'Ambrosio, Laurel McNaught, Ellie Turnbull; The Scottish Baccalaureate Award - Perrie Harvey, Caitlin McInnes, Ashleigh Wannan. Gold Award S4 – Sam Aitken, Emilly Aitkenhead, Evie Allison, Connor Anderson, Euan Bernard, Harvey Berry, Sophie Blair, Fraser Brown, Olivia Carling, Kathryn Carson-Brown, Kiran Chadha, Katie Christie, Charlotte Clem, Summer Cook, Lia Cooper, Emma Cowan, Scott Cowan, Heather Cowie, Grace Cuthbertson, Rory Davidson, Erin Dawkins, Rachel Dee, Hana Dick, Andrew Dingwall, Anthony Dodds, Skye Drummond, Adam Dunlop, Rebecca Dunsmore, Katie Dyson, Murray Egan, Alyssa Evans, Hollie Findlay, Kim Fraser, Sam Friar, Robyn Gargan, Frazer Gauld, Euan George, Jack Gilfillan, Adam Grant, Erin Hagan, Jenna Hamilton, Amy Hanson, Oliver Harkins, Flynn Hemsley, Erin Henderson, Erin Hendry, Isla Houston, Chelsy Hughes, Luci Hulse, Luca Jackson, Miya Johnston, Roddy Johnston, Joseph Kallow, Cara Laird, William Lawless, Sophie Leslie, Iona Liddle, Fraser Lloyd, Connor Macdonald, Campbell Mackay, Euan MacRae, Andrew McArthur, Sarah McDonald, Murray McGillivray, Kate McIntyre, Nathan McMillan, Beth McMurtrie, Gregor McPhaden, Marcus Miller, Callum Moffat, Evan Morgan, Isla Mulholland, Lois Murray, Mackenzie Myles, Grace Ogg, Melissa Oliver, Esme Ong, Kofi Osei, Amy Parsons, Gabrielle Pascoe, Caitlin Peattie-Hume, Aidan Penn, Lisa Rennie, Jude Riddoch, Ellie Roberts, Tom Robertson, Niamh Robertson-Jack, Jay Roddan, Sophie Rollin, Caitlyn Rue, Luke Ryce, Christopher Scott, Cameron Shaw, Nada Shraz, Arwen Silcock, Erin Simmers, Eva Simpson, Ela Sinclair, Jamie Spinks, April Stewart, Jack Stubbs, Paige Szanyi, Lauren Thomson, Zoe Tulloch, Jana Turki, Connor Van Oordt, Kyle Waddell, Beth Whitfield, Frazer Wright, Amy Yardley, Szymon Zuk. Gold Award S5 – Sophie Allan, Elise Anderson, Nicole Andrew, Leigh Barker, Kieran Barr, Marcus Budd, Amber Burrow, Louise Cade, Abby Campbell, Niamh Campbell, Connor Draycott, Rachel Duff, Teigan Dunnachie, Kasia Erm, Olivia Fawkes, Lewis Finlay, Olivia Gardner, Holly Gilmartin, Adam Gourlay, Charlotte Grant, Rebecca Gray, Adam Grieve, Lucas Grieve, Neve Hogg, Murray Hunter, Marnie Izatt, Sara Jack, Kieran Jamieson, Azan Javed, Amy Joyce, Rebecca Karpinski, Uzair Khan, Taylor Kostlin, Rory Law, Taliah Lee, Catriona Lees, Amy Leslie, Catherine Mason, Eva McKie, Gregor McKinnon, Hannah McSorley, Emma Miller, Mia Miller, William Miller, Olivia Morton, Kai Muir, Jayme O'Reilly, Lottie Rae, Hollie Renwick, Corey Sharp, Emma Simpson, Isla Simpson, Ellie Sinclair, Sebastian Skierski, Catriona Small, Kate Stanners, Callum Stewart, Jake Stott, Euan Strathie, James Stupart, Ellie Tetsill, Aidan Thewlis, Alex Ure, Isla Williams, Sarah Williamson, Abbie Wilson, Caitlin Wilson, Gabby Wilson, Natasha Wilson, Zoe Yeaman, Michelle Yu. Gold Award S6 – Ewan Aiken, Molly Aitkenhead, Heather Anderson, Lauren Barclay, Kacey Binnie, Euan Burns, Arnold Caikovskij, Sophie Calderwood, Lucas Cameron, Daisy Campbell, Chloe Cheung, Connie Cobain, Rachel Conroy, Holly Cowan, Zara Cowan, Nina D'Ambrosio, Aimee David, Jay Dickson, Ross Drummond, Aimee Duff, Alyx Easton, Ben Gavigan, Lewis Gillespie, Rebecca Godfrey, Cara Hair, Evie Hannah, Kyle Hannah, Perrie Harvey, Kyra Ho, Ryan Hunt, Rachel Johnston, Ewan Kane, Emily Kidd, Stephen Liddell, Katie Liddle, Iona MacMillan, Nicole MacMillan, Alex Mardon, Steven Marshall, Millie McAuslan, Erin McCrossan, Colin McDonagh, Jemma McDowall, Kyle McGillivray, Caitlin McInnes, Aiden McKeever, Rebecca Melville, Robyn Melville, Anna Milliken, Neve Moore, Lauryn Muirhead, Sophie Nicol, Tilly O'Donnell, Maia Parke, Sam Parsons, Alastair Paterson, Emily Patterson, Craig Porter, Jennifer Preston, Meredith Rae, Ellie Ray, Aidan Robertson, Kerry Robertson, Meaghan Roy, Alexandra Sardzikova, Callum Scott, Mari Smith, Ellie Stenton, Sophie Stuart, Grace Tailford, Amy Thomson, Bailey Toland, Ellie Turnbull, Aimee Wannan, Ashleigh Wannan, Alex Whitfield, Finlay Wilson, Aimee Wojcik. Year Team Award for Resilience and Achievement over Adversity S4 – Esme Ong, Evan Wilson; Year Team Award for Resilience and Achievement over Adversity S5 – Jami-Lee Laing, Holly Whyte; Year Team Award for Resilience and Achievement over Adversity S6 – Alastair Paterson, Jodi Sneddon; The Chaplaincy Award – Olivia Carling; The Class 98 Award for Outstanding Leadership within the Community – Evie Hannah, Kyle McGillivray, Fiona Murphy, Ellie Turnbull, Alex Whitfield; Tryst Dental Services to the School and Community for STEM Academy – Katie Ferguson, Kyle McGillivray, Meaghan Roy; The David Bryson Award for Young Sports Ambassadors – Lauren Gascoyne, Niamh Robertson-Jack.Thank you for reading this article on our free-to-read website. We're more reliant on your support than ever as the shift in consumer habits brought about by Coronavirus impacts our advertisers.Please consider purchasing a subscription to our print newspaper to help fund our trusted, fact-checked journalism.https://www.localsubsplus.co.uk/nord/dm/FKH/V