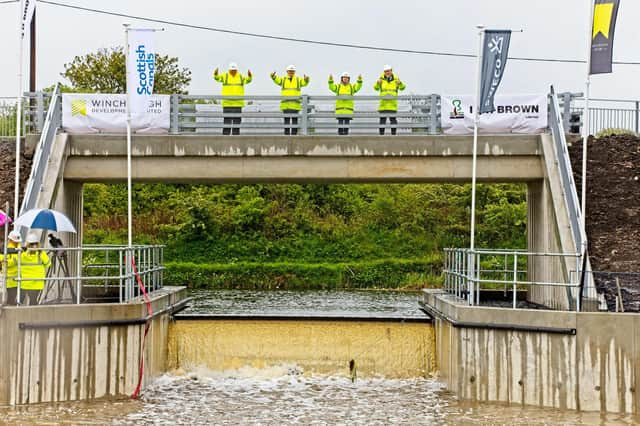 Thumbs up as water starts to fill the Winchburgh marina basin
Winchburgh Developments Ltd was joined by Scottish Canals, engineering firms I&H Brown and SWECO, and members of the community for the milestone.
The filling was carefully controlled over a number of days, with the marina having a capacity of approximately 5000 cubic metres.
I&H Brown began construction of the new marina basin last August. Work will now commence on a second phase of further landscaping, as well as pontoons, moorings and a facilities building.
Winchburgh will be the first new marina to open on the Union Canal since 2014 and will include 20 marina berths as well as new leisure and commercial spaces, and coincides with the canal's 200th anniversary.
The marina will eventually connect via a footbridge to the new Daisy Park, as well as providing access to the Union Canal towpath. A further 29 moorings will be added to the north in a final phase of the development.
Winchburgh Developments Ltd CEO, John Hamilton, said: "This is a hugely significant moment for the Winchburgh masterplan.
"Located in the heart of the new town centre, Winchburgh Marina will provide a host of amenities for locals and visitors, including leisure facilities, restaurant and café spaces, and homes.
"It's a proud moment for the entire team, including our partners SWECO and I&H Brown who have been instrumental in the successful completion of this project."
Mandy Baird, of Winchburgh Community Council, added: "Back in 2004 when the community council first saw the plans to open a marina in Winchburgh I'm the first to admit I said that it would never happen.
"I am happy to be proved wrong and thrilled to see what a great job the developers have done."
Catherine Topley, CEO of Scottish Canals, said: "This development showcases our determination to create new commercial opportunities as well as destinations for tourism to flourish in every area of our canal network ."
J Smart & Co will begin work in the coming months on 64 new apartments and townhouses overlooking the marina.