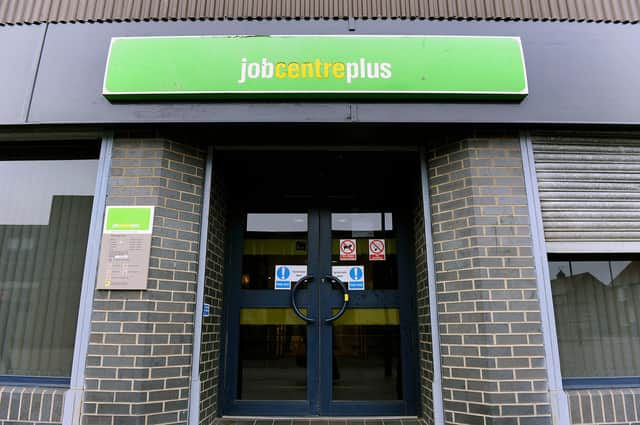 The number of people claiming Universal Credit and Jobseekers Allowance has risen in the last month
Thousands more Falkirk residents are claiming unemployment benefits compared to a month ago, as the effects of the coronavirus crisis on the economy begin to bite.
The Labour Party says more of us will soon face what it describes as "one of the weakest out-of-work safety nets in the developed world", and has joined charities in urging reform to the system.
Office for National Statistics data shows 5540 people were claiming out-of-work benefits in Falkirk as of April 9, compared to just 3335 a month earlier.
It means the share of the population signing on rose from 3.3 per cent to 5.4 per cent.
The statistics capture the early weeks of restrictions after the country went into lockdown on March 23, meaning the numbers are likely to have risen since.
Falkirk's claimant rate was the same as the proportion across Scotland as a whole.
The ONS figures count those aged 16 to 64 who are on Jobseekers Allowance and some Universal Credit claimants, with numbers rounded to the nearest five.
Across the UK, the claimant count rocketed to 2.1 million on April 9 – a 66 per cent rise from March, although the ONS put the increase at 69 per cent if the figures were adjusted to take seasonal variations into account.
Labour's shadow work and pensions secretary Jonathan Reynolds said the rise shows the "severity of the crisis we are facing".
He added: "Unfortunately these claimants will now discover the UK has one of the weakest out-of-work safety nets in the developed world.
"We support the changes the Government has made so far during the outbreak, but they do not match the scale of the crisis."
The party has called on the Government to make five immediate changes to the benefits system, which include ending the five-week wait for Universal Credit payments and scrapping a £16,000 limit on the amount of savings claimants can have.
The ONS figures show the increase in the share of the population seeking help varied significantly around the country.
In the Isles of Scilly, the figure shot up from 0.7 per cent to 5.8 per cent. At the other end of the spectrum, Cambridge, South Cambridgeshire and Elmbridge saw their claimant count rise by just 0.9 percentage points.
Sara Willcocks, from the anti-poverty charity Turn2us, said: "No matter where you live in the UK, you should be able to rely on our social security system, just as we do our NHS.
"So the Government must take this time to fix the problems with benefits, like the five-week wait for Universal Credit, and make them suitable for the 21st century."
A Department for Work and Pensions spokesman said: "These are challenging times, but Universal Credit is providing a vital safety net to those affected by the pandemic and we've taken action by injecting over £6.5 billion to support people using the welfare system."