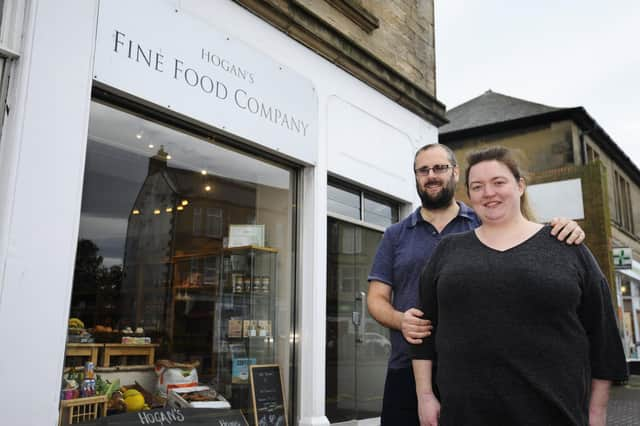 Michael and Catriona Allison, of Hogan's Fine Foods
Hogan's Fiine Food Company was forced to temporarily suspend new orders on Friday, as staff have been working flat out to deliver its hallmark food boxes all over the local area, and is now pausing further business for the rest of the weekend to work through existing orders.
Although the business (based at 342 Main Street) does not say so, an already substantial volume of regular delivery orders is likely to have spiked with the onset of the Coronavirus pandemic.
A spokesperson said on social media: "I will be going through the massive number of orders awaiting scheduling and at that stage may be able to reopen to orders.
"Please give me time to do that, I will do my best to let you all know as soon as I can.
"Our answer machine in the shop is full, it cannot take anymore. I will clear it over the weekend but I can say I have discovered our answer machine will take about 50 messages before it's full.
"That's one day worth of messages - I hope this helps to illustrate why we had to stop answering the phone as we couldn't get anything done answering the phone every two minutes."
It specialises in fresh produce orders, including boxes which can be tailored to suit, for example, customers' preferences on fruit and veg choices.
It has been operating a collect or deliver-only service, in line with current safety guidelines.
Up to the minute information about Hogan's Fine Food Company can be seen on their Facebook page at https://www.facebook.com/hogansfinefoodcompany/