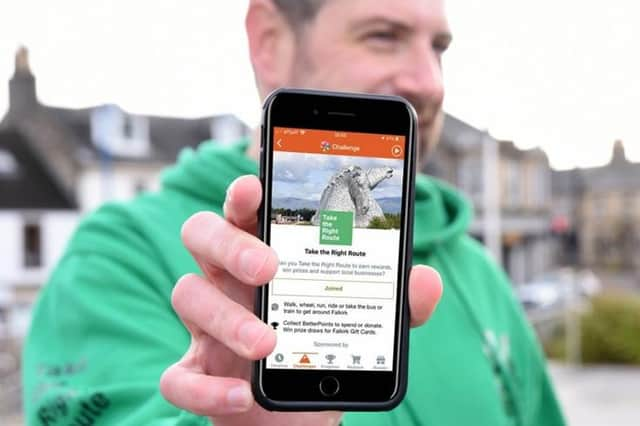 You can download the free BetterPoints app from the App Store or Google Play
Falkirk Council and Falkirk Delivers are inviting local people across Falkirk and the District Towns to get active and support local businesses. There are lots of opportunities to be in with a chance of winning some great prizes.
The Take the Right Route campaign provides local people with rewards and prizes, through the free to use BetterPoints app, simply for choosing to travel by foot, wheel or public transport more often. Participants earn points for their activities, which they can exchange for a Falkirk District Towns Gift Card, and other high street vouchers.
Take the Right Route participants will have seven chances to win gift cards every single day from December 1-24
Take the Right Route participants will have SEVEN chances to win every single day from 1-24 December, with £20's worth of prizes daily. All you need to do to enter is track a car-free journey of at least half a mile using the BetterPoints app, then check your timeline the following day to see if you're a lucky winner.
Each day we'll be giving away:
1x £10 District Towns Gift Card
1x £5 District Towns Gift Card
Visit your local District Town Centre for weekly prizes
We want everyone in the District Towns to #ChooseLocal this festive season, so every Monday we'll draw one lucky winner from everyone who travelled into the centre of Bo'ness, Denny, Falkirk, Grangemouth or Stenhousemuir.
We're also going to run some surprise rewards to keep you on your toes. Make sure you're as car-free as you can be and record all your journeys in December to give yourself the biggest possible chance of winning!
Simply download the free BetterPoints app from the App Store or Google Play. Register your details and join the 'Take the Right Route' programme. You can then use the BetterPoints app to track your active and sustainable journeys, and start earning rewards.
Local Church buys District Towns gift cards for struggling children this Christmas
Love Falkirk is a compassion ministry at Falkirk Vineyard Church. They have been running since the beginning of our church in 2012. In 2017 they started our Christmas project where they provide Christmas dinner hampers and Christmas presents to those who would otherwise do without.
This year, working with Falkirk Social Work, they have identified 53 children over 32 families who are struggling. They aimed to raise £2650, which is £50 per child in the hope of providing the parents with an opportunity to spend a gift voucher and choose a present for their child. They were able to buy £1600 of Smyth's vouchers for younger children and £1050 of Falkirk Delivers' District Towns Gift Vouchers for the older children, giving the choice to choose gifts for kids with dignity.
Love Falkirk would like to say a massive thank you to everyone who donated to this year's appeal, they could not do it without you.