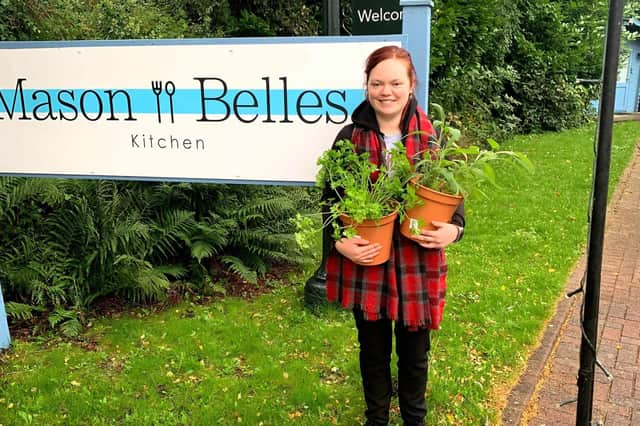 Young chef Lara Aitken with coriander and sage that she started growing at home to use in the restaurant
Having always believed in the recruitment and training of young inspiring chefs "in the making", Linsey Scott, chef/ proprietor of Mason Belles Kitchen in Linlithgow used lockdown to provide her three young apprentice chefs with a fantastic learning opportunity.
For a week at a time throughout March and April, the three young chefs, Jamie Thomson (21) from Falkirk, Lara Aitken (20) from Addiwell, and Marianne McKie (27) from Denny, were each put in charge of the takeaway menu for the restaurant.
A chef for 25 years, during which time she worked at numerous leading Scottish hotels and restaurants, Linsey set-up the restaurant in 2018, named after her son Mason, to give her more flexibility over her long working hours, making it easier to combine her career with being a mum.
As the pandemic continued Linsey decided to offer a quality takeaway service so that her customers could enjoy a taste of MBK at home.
"Our takeaway menu showcases delicious local meat, fish and game, with inventive hot and cold desserts," said Linsey.
"Since we started it, we have enjoyed strong local support for which I am very grateful. I felt it was a real shame that my young chefs literally had to stop learning through lockdown, so I came up with the idea of giving them free rein to design and create their own takeaway menus.
"This was indeed a challenge as it wasn't just a case of designing the menus, they had to keep a close eye on costings, on staffing, and bear in mind that several dishes had to be able to be reheated at home, without any compromise of flavour, texture, or taste.
Young chef Marianne McKie
"A project like this was certainly something that, as a young chef, I would have dearly welcomed, had it been available to me."
Mason Belles Kitchen Linlithgow will re-open on April 28 following a fresh refurbishment. Linsey added: "I am looking forward to trying everything we can to keep our business alive in the recovery post covid. I'm growing my dream and thank everyone for their support.
"Myself, together with our MBK family, cannot wait to see everyone very soon!"
For more information about the local restaurant go to: https://masonbelleskitchen.co.uk/about/