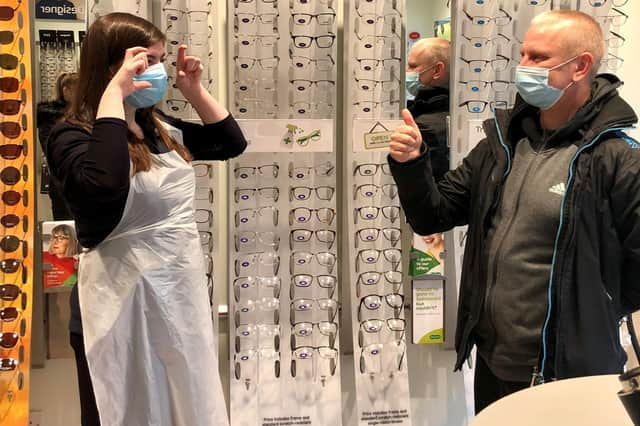 Specsavers Linlithgow's Kaitlin Nelson and patient Steven Balloch.
It offers adult hearing tests and ear wax removal, with members of staff trained in British Sign Language (BSL), to make appointments easier for those with a loss of hearing.
The training has proved beneficial for customers including Steven Balloch (pictured), who communicated with staff using sign language.
In-store BSL trainer Kaitlin Nelson said: "We aim to make everyone feel welcome and the sign language training has really helped us to better communicate with customers with hearing loss."
Specsavers Linlithgow staff outside the store (L-R) - Calum Cawley, Kaitlin Nelson, Diana Kelly, Emily Finlayson
In regards to looking after your hearing, Kaitlin added: "The importance of looking after your hearing can so often be overlooked, but there are steps everyone can take to help prevent hearing loss in the future, especially being mindful of loud noises.
"Not only can loud noise cause pain, tinnitus and a temporary loss of hearing, but long-term exposure to noise can also cause permanent, irreparable nerve damage, that may not show up for a number of years.
"The best thing to do is to make sure that you never listen to your music above 60 per cent volume as this is when damage to your hearing can occur. It is also advisable to give your ears regular breaks.
"If you notice any changes in your hearing, make sure to get it checked by your audiologist."