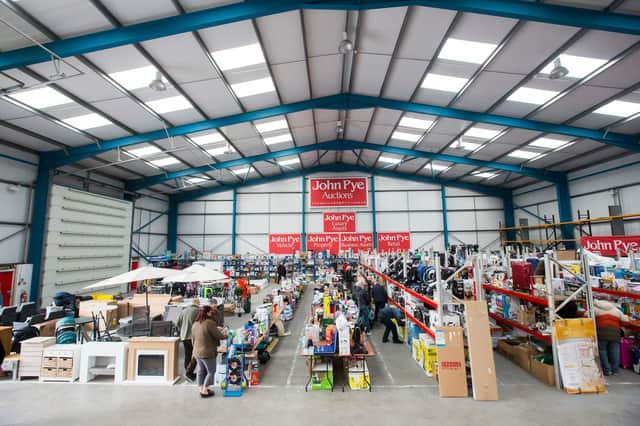 Inside the John Pye site in Bo'ness. Photo by Fabio De Paola.
John Pye has been operating in Scotland for more than five years, holding more than 500 online auctions from its Bo'ness site. The sale room reopened on Monday, with eight auctions now live and four concluding this week, with nationwide home delivery and click and collect now available.
Adam Pye, managing director at John Pye, said: "We're delighted to be reopening our Scottish site in line with the Covid-19 secure government guidance.
"We have never been busier in our 52-year-history and earlier this month we took on a new site in the Midlands in response to market demand, a move that take our total sales room floorspace to more than 900,000 sq ft across our 18 sites.
"To be taking on new sites and growing the business is a real feat during these challenging times.
"We're very proud that in the last year we held more than 1,300 online auctions, selling more than one million lots and offering savings of up to 80 percent on retail prices, so we are really looking forward to welcoming our customers back at our Bo'ness site this week."
John Pye offers a wide range of items to savvy shoppers, from tech and gadgets on offer through its online warranty auction to a wide range of designer clothing and homewares from a variety of high street and luxury brands.
Robert Hicking, auction site manager at Bo'ness, added: "We are thrilled to be reopening and expanding our operations to manage the stockpile of items we've received throughout the latest lockdown.
"We have a wide range of stock, including a number of white goods, flooring and furniture as well as home electrics and furniture from a high street retailer, which is set to go live next week.
"We're also offering nationwide home delivery, as well as a limited click and collect service, so we're looking forward to opening the sites up and welcoming customers back in Scotland."