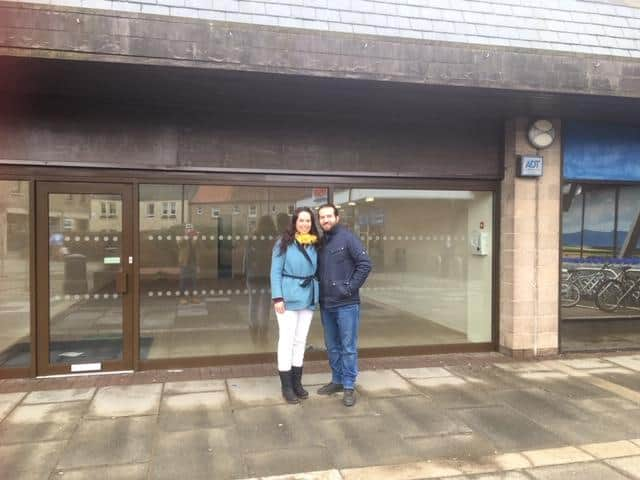 Naiomi Smith-Skapi and Ilirjan Skapi outside the Linlithgow shop unit.
Naiomi Smith-Skapi and Ilirjan Skapi are opening artisan coffee roastery/cafe/art space White Dove Coffee Roasters, in memory of Sheila and Philip Whitehead, who had a shop named White Dove in Edinburgh.
The couple, who run a Sicilian artisan bakery in Perth, hope to open in the shop unit next to Tesco in Linlithgow next month.
Naiomi said: "Hopefully we should be up and running by the middle of April.
The White Dove Coffee Roasters logo.
"My husband is a coffee roaster by trade and we saw this unit, so we want to set-up this coffee roaster and a cafe. We also want to create an art space for predominately paintings and pottery.
"We also want to stock teas from all over the world. And we will be bringing down some cakes from our artisan bakery. We are trying to focus on more high end, but be cost aware for the consumer. With homemade local ingredients as much as possible."
Speaking about the family connection, Naiomi added: "It's really in honour of my grandparents.
"They were in Linlithgow for a good 30 years, when they had the White Dove shop in Edinburgh. They were very heavily involved with helping Cancer Research, Link and Hopetoun House.
"We are actually moving into their old house and this unit came along just five minutes from there, it's perfect.
"We want to give Linlithgow something new. We don't want to compete with any existing businesses. We will literally be about coffee, tea and cake, rather than a restaurant or a brunch kind of place."
Naiomi hopes the White Dove can bring the community together post-Covid.
She said: "We want to to be a community hub. We are hoping we can really tap into the community and do some fundraisers for the local school, Low Port, where my son is about to start.
"Our logo is a deliberate take on a dove holding an olive branch (symbolising peace), but our dove holds a coffee bean branch.
"In what has been a time of great loss and sadness with Covid, we hope to bring a little bit of joy, tranquility and hope to the local community by creating a warm, special space for all involved."