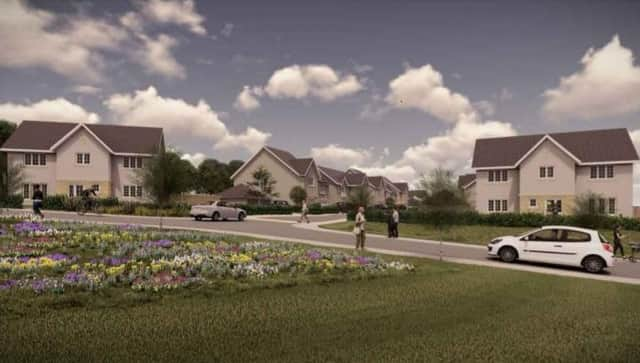 An artist's impression of the new Cala development
Councillors on the Development Management Committee rejected an offer of moving the access to the 60 house development on Deanburn Road by a few metres to address the concerns of residents living opposite the planned T-junction.
One of those residents, Emma Gordon, told the committee the development would " shatter our privacy."
CALA was seeking final approval to develop the field on Preston Farm, but the proposals faced more than 30 objections.
Mrs Gordon said the T-junction access would be in front of her home: "We'll have headlights shining into our windows as cars come downhill to use the junction."
She pointed out what is currently a quiet county road would become clogged with heavy construction traffic and then see a huge increase in traffic once the 60 homes had been developed.
The development would also mean the loss of Deanburn Verge, a hedgerow maintained by volunteers.
Planners had supported the development with a range of conditions.
The lengthy debate heard from objectors and CALA representatives who said their plans had "benefited from engagement with the public".
However, committee members lined up to voice their scepticism.
West Lothian provost Tom Kerr said: "Like it or loathe it the plan to develop this site has been agreed, but I think it is totally unacceptable for us to approve a development where there would be a serious loss of amenity to these households.
Councillor Stuart Borrowman said: "I cannot look these residents in the eye and say your loss of amenity doesn't matter in the bigger picture. I too wish a solution had been arrived at before this."
Councillor David Tait said: "All of this, or a hell of a lot of it could have been sorted out before we ever got here. We have to talk earlier with communities and find out what they think about things."
Head of planning Craig McCorriston suggested the decision be delayed until the next monthly meeting to give the developers the opportunity to find a solution.