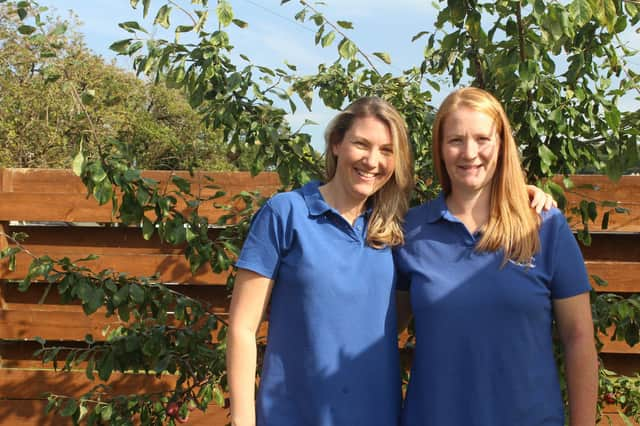 In 2016, Emily Ogilvy was joined by her sister Victoria Lacombe as co-director of Blueberry Hill Meals
Blueberry Hill Meals, a family-run company based in Stirling, has been a lifeline for some of the most vulnerable people in our local community throughout the COVID-19 pandemic. The company specialises in making meals that taste home-cooked, and this coupled with their personalised delivery service has meant they can provide real comfort to many in the Falkirk area.
Blueberry Hill was established in 2012 by Emily Ogilvy. Emily had just completed a scholarship in America to train as a golfer when tragedy struck and she dislocated her shoulder just before turning professional. She turned to her other passion of cooking and started by making meals in her mum's kitchen for a handful of local people.
Word soon spread quickly Emily's tasty, home-cooked meals, such as chicken tikka masala
Word soon spread quickly about her tasty, home-cooked meals and within two years Emily had set up a kitchen in Stirling and employed a head chef and general manager. By 2016 it had become a real family affair when she was joined by her sister Victoria Lacombe as co-director.
Like many small business owners, the sisters were forced to adapt extremely quickly when COVID-19 hit. Victoria said: "The past 18 months have been extremely tough for everyone. We've been very fortunate as we were classed as an essential service and where therefore able to continue working throughout the lockdowns.
"We feel really proud that we've been able to help so many people through such a difficult time – our staff and loyal customers have been fantastic in supporting us and helping us to adapt so that we can continue to make and deliver our meals safely to those who need them.
Blackberry and apple crumble is one thing on Emily's dessert menu
"As a small business, there is many an occasion where you feel inferior to the national firms offering a similar service. However, one thing we have learnt is that, as a smaller local business, we can offer something unique and adapt quickly to what our customers need.
"For example, we offer free delivery employing staff not couriers so we can offer a personalised service that wouldn't be possible with a much larger company.
"We get to know many of our customers very well and look forward to having a wee natter with them on the phone. Our drivers are also very caring and often go out of their way to help the people they deliver to – we're so lucky to have such a great team working with us and lovely customers who support us."
Blueberry Hill Meals delivers to an ever-expanding area, from as far north as Pitlochry and Montrose, south to north Glasgow, east to Leven in Fife and west to Balloch in West Dunbartonshire.
The company is about to launch its autumn/winter seasonal specials menu with some delicious new dishes, as well as a new meal box and gift voucher service. If you would like to find out more about Blueberry Hill Meals and try their meals, they are running an offer for new customers – use code NEW2021 to get £5 off your first order of £20 or more.
Or why not try their starter pack for £10 to get a soup, two main meals and dessert delivered free to your door. Everything is delivered frozen so can be enjoyed as and when you fancy something tasty or don't have time to cook.