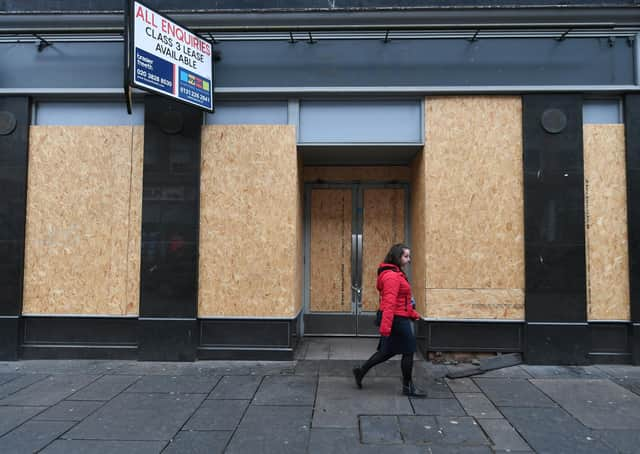 Stock picture : John Devlin 25/03/2020.
Individuals who started their own business in the 2019/20 tax year (April 2019 – March 2020) can now apply for a one-off hardship payment of £2,000 if they are suffering financial hardship due to Covid-19.
For details on the criteria and how to apply visit: www.westlothian.gov.uk/business-support-fund or www.edinburgh.gov.uk/coronavirus-4/businesses-employers/2?documentId=12924&categoryId=20297.
West Lothian executive councillor for development and transport Cathy Muldoon said: "I welcome this additional funding for self-employed people in West Lothian. There are restrictions around who can apply but it should provide help and support for many local business people."
Councillor Muldoon added: "The scale of the challenges facing our economy are stark however, we must focus on supporting local businesses as best we can through this time.
"West Lothian Council has already administered over £15.7 million in payments from the Coronavirus Business Support Fund for the area ensuring local businesses are receiving financial support. That includes 1,258 Small Business Grants and 128 Retail, Hospitality and Leisure Grants being awarded."
Edinburgh Council Leader Adam McVey said: "This money will come as welcome news to self-employed workers who haven't been able to access support through other schemes. This hardship fund is for them, providing grants worth £2,000 to support their important work.
"There are many challenges facing our business community and we know what a difficult time this is. The measures we've implemented and supported as a council have already provided close to £60m in support grants to help businesses stay afloat and millions more in non-domestic rates relief. The newly self-employed fund will help us to step up this work even more.
Depute Leader Cammy Day added: "This money will protect newly self-employed workers from falling through the net and instead provide them with critical funding to keep them in business.
"I'm pleased that the fund is now available to the people of Edinburgh and our officers will be working hard to turn applications around as quickly as possible over the coming weeks."
To be eligible for the Newly Self-Employed Hardship Fund, workers must have started self-employment on or after April 6 2019 and be resident within the local authority area they apply to.