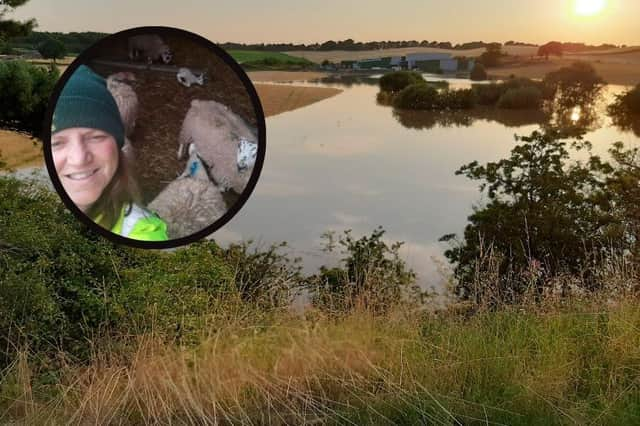 Margaret Cook, a farmer whose land was ruined when the Union Canal breached in August, 2020.
Five months on, Margaret Cook, a farmer who rents a section of land on Myrehead Farm that was badly damaged, is yet to receive any support for the thousands of pounds worth of damage caused to her fields and crops.
Mrs Cook owns and lives on Kinneil Mill Farm in Linlithgow, with her husband and son, which is across the road from 100 acres of land that they rent on Myrehead Farm.
They took over the farming business which included the lease of this land in May 2020, but since have found themselves at a loss, unable to farm it due to the significant damage caused by the canal breach.
Animals in one of the fields at Myrehead Farm that flooded when the Union Canal breached last August.
Mrs Cook told The Scotsman: "It's our livelihood, that ground is a huge part of our income as a very small family farm and we're now faced with the stark reality that we may not be able to farm those fields and make an income from them next year."
When the incident happened last August, Mrs Cook described that the water "flowed like a river" through neighbouring fields before settling on low lying ground, their land, subsequently ruining their crops and causing extensive damage to the ground, an access bridge and their drainage system.
In September, Mrs Cook submitted a claim of approximately £12,500 to Scottish Canals for the crops in the ground that they lost.
The Cook's say that to date, they have not received an acknowledgement of the original claim made in September and their costs are only growing.
Myrehead Farm after the Union Canal breach in August, 2020.
Mrs Cook continued: "The impact is huge, but it's the uncertainty that is the worst, and it just feels so unnecessary. It feels like these delays have been manufactured by Scottish Canals."
In addition to the spoilt crop, Scottish Canals warned the Cook family that the water may have been contaminated with mercury which would have been poisonous to grazing animals.
As their animals are for human consumption, the Cook's didn't want to risk any mercury entering their systems so moved the sheep and paid for them to graze elsewhere.
The Cook's claim that on September, 23, 2020, Scottish Canals received a report stating that the risk to human life was very low and the land was therefore safe for their animals, but despite repeated requests, they weren't formally given this information until mid-November, 2020.
Currently, the land is still filled with debris from the canal but the Cook's are unable to start clearing the fields or fixing the damage until it has been surveyed.
Following the survey, the insurance company will assess the damage and work out what is owed.
Despite repeated attempts by the Cook family to get Scottish Canals to send surveyors to the land, they say no progress has been made.
Because their fields weren't in working order, the family couldn't sow their winter crops, and if action isn't taken immediately to clear and treat the land, they won't be able to sow their summer crops either.
Mrs Cook said: "We've still got outputs, we still have to pay our landlord, we had to find and rent other ground for our sheep because we couldn't use our fields.
"This isn't our fault but nobody is helping us."
The Scottish Government was contacted but refused to comment.
On January, 21, 2021, The Scotsman contacted Scottish Canals for a response to the claims made by the Cook's.
Just one day later, the Cooks received an email asking them what Scottish Canals "may be able to do in terms of physical works to be of most assistance in the short term".
While a promising development, Mrs Cook is worried that it is a "token gesture" and wants assurance that full support will be given until the situation has been fully resolved, not until the "media attention has died down".
A spokesperson for Scottish Canals said: "On the August, 12, 2020, the area between Polmont and Linlithgow experienced a one in 240-year storm which resulted in a breach of the Union Canal near Muiravonside.
"Scottish Canals took swift action, with staff on site within an hour and working with a number of partners to manage the incident, installing two temporary dams to significantly stem the flow within 12 hours and fully stopping the flow of water within 24 hours.
"Since the incident, Scottish Canals has commissioned a detailed technical investigation of all aspects relating to the impact on the canal. Early indications have highlighted the complexity of the circumstances which led to the breach, including significant surface water runoff and flooding from areas upstream.
"Since October 2020, Scottish Canals has been carrying out work to rebuild the damaged embankment and improvement works to deliver climate change resilience measures along the Union Canal.
"Scottish Canals is insured for this type of event and the insurers have been in close contact with property owners affected by the water flowing from the canal.
"Scottish Canals recognises the significant difficulties by those who have been affected and will continue to work in partnership with local landowners affected by the incident and update them as soon as the investigation has concluded."
Despite this response, Mrs Cook says they are stuck in limbo without the support they desperately need.
She added: "They've done nothing to support us in recovering from the damage that they've caused.
"We were used, and they've abandoned us."
A message from the Editor:Thank you for reading this article. We're more reliant on your support than ever as the shift in consumer habits brought about by coronavirus impacts our advertisers.
If you haven't already, please consider supporting our trusted, fact-checked journalism by taking out a digital subscription.