Falkirk taxis: Backlash over council bid to tackle shortage of drivers
Furious taxi drivers say they are "dumbfounded" at Falkirk Council's announcement that there is a shortage locally.
Thursday, 22nd October 2020, 7:00 am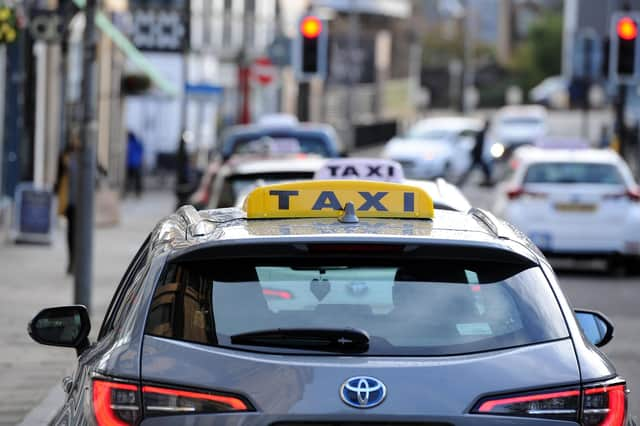 Lower Newmarket Street - taxi rank. (Pic: Michael Gillen)
Last week, the council changed the rules to make it quicker and easier to recruit private hire car drivers, claiming it didn't have enough to take children to school every day.
But many angry drivers responded to say that hundreds of taxi drivers - already fully licenced and police checked - would like to do school contracts but have not been given a chance.
One driver, who asked not to be named, said he has finally applied for Universal Credit after earning nothing at all last week.
Lower Newmarket Street - taxi rank (Pic: Michael Gillen)
Others say their earnings have dropped by more than half, while night time work has almost disappeared.
David Faichney, director of DF Taxis Services in Falkirk, said: "Pubs are shut, restaurants are shut, there are no weddings or events, and there are no airport transfers.
"We have had to drop our taxi hire charges to try to keep our drivers in work.
"Putting extra drivers on the road will just jeopardise a trade already on its knees as it will dilute what little custom that's left."
Lots of taxi drivers who got in touch after reading the report of the council meeting in The Falkirk Herald say the decision will spell disaster for those already in the job.
Gordon Waddell, of Kerse Cabs in Grangemouth, said: "When these guys finish their school runs they are going to be sitting doing what the rest of us are doing, which is basically nothing.
"There are a lot of taxi drivers who are having to take a second job to try to make a living."
The council's transport planning department told councillors making the decision that they had spoken to the main taxi companies involved.
But Mr Waddell, and many others, say it should not just have been the bigger companies who were consulted.
He said: "If they can't get their contracts covered, why have they never contacted smaller companies and individuals that are on their system that have got the PVGs?
"The council has contact information for every taxi driver but nobody has had a letter, email, a text or anything to request them to cover contracts.
"At the end of the day, we're talking about livelihoods - and bringing in more taxis will only make it worse."
A Falkirk Council spokesperson said: "This is a temporary measure to address a specific problem raised by operators already providing the majority of school contracts and who had been impacted by the changes to guidelines for transporting children and a reduction of available drivers.
"We understand that the trade is under pressure but it also has an obligation to process the applications that it receives. There is no limit on the number of licences that can be granted.
"We would encourage all operators on the existing framework agreement to bid for work when this becomes available. There have been a number of opportunities to do so since the beginning of the school term.
"We accept that it would have been better to have heard a wider range of operators' views but it's unlikely that the recommendation would have been different.
"There will be an opportunity to hear from the wider trade at the next taxi forum in November."
Thank you for reading this article on our free-to-read website. We're more reliant on your support than ever as the shift in consumer habits brought about by Coronavirus impacts our advertisers.
Please consider purchasing a subscription to our print newspaper to help fund our trusted, fact-checked journalism.