Falkirk District gift card scheme helps local economy
Employers in the Falkirk area are being encouraged to reward staff this Christmas with a "buy local" gift card.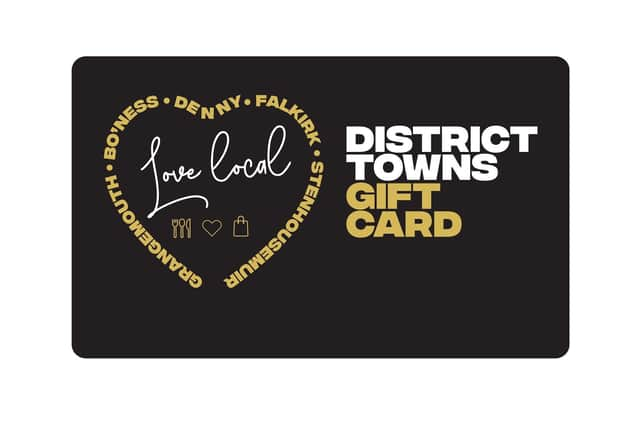 The gift cards can be redeemed at a wide variety of businesses
The District Towns Gift Card scheme offers an innovative alternative to traditional festive presents, bonuses, and even the office party.
With values of £5 to £500, the gift cards can be redeemed at a wide variety of businesses, including independent and national traders, within Falkirk district.
The scheme has been developed by Falkirk Delivers, which manages the local Business Improvement District (BID), as part of a UK-wide Town and City Gift Cards programme.
This could be the gift of choice all round the district
Its aim is to keep consumer spend on high streets, while also providing a much-needed boost to local economy recovery during an extended period of Covid-19 pandemic restrictions.
In addition, employers who reward staff with the District Towns Gift Card can take advantage of the UK trivial benefits scheme, which allows a business to give an employee a benefit of up to £50 without paying tax, but only if the benefit isn't in cash.
Elaine Grant, the BID manager, believes the Gift Card could be seen as the "gift of choice" for employers, who want to say a festive thank you this year.
She said: "The District Towns Gift Card allows employers to reward staff, while also supporting local businesses at a particularly difficult time.
"The card provides the gift of choice, to allow the employee of their organisation to buy a memorable gift in a wide variety of different businesses, and it also ensures the thank you is even more appreciated.
"This, in turn, will help to drive employee engagement and retention at a time when supporting the local economy is paramount."
Many businesses in the Falkirk Council area, which includes the town, as well as Bo'ness, Denny, Grangemouth and Stenhousemuir, welcomed news of the gift card scheme.
While the council authority is categorised Covid protection level three, which means most businesses can remain open if they adhere to Scottish Government guidelines, 2020 has been tough economically.
Jennifer France, the manager of The Acoustic Cafe in Falkirk, said: "There can be few businesses or people who have not been adversely affected by the pandemic in the Falkirk area.
"Anything that helps to give the local high street a boost and which contributes to an economic recovery is really appreciated.
"The gift cards are such a great way for people, whether employers, staff or customers, to support a wide range of local businesses and to keep money locked into the economy here.
"I will be buying cards as gifts for people I know this Christmas and I think that they are a brilliant idea for rewarding staff."
Aimee Hamilton, the manager of Irene's Florist in Stenhousemuir, agrees. She said: "The gift cards are a really good way to give support to local businesses and they will help to bring money into our high streets at a time when we need it even more.
"We are considering the cards as rewards for staff this Christmas, especially as we know they will be used to buy products and services locally over the coming months."
Lynne Rennie, the director of Ross Philip Jewellers in Grangemouth, is hopeful the gift cards provide a lifeline for as many high street businesses as possible.
She said: "The gifts card scheme is an excellent idea and I am very pleased that Falkirk Delivers has introduced them.
"We have been very grateful to local people supporting businesses during the pandemic and the gift cards will hopefully maintain the footfall – and even increase it – on our local high streets. Supporting all our businesses is so important."
Billy Horn, owner of The Bo'ness Bakery, agrees. He said: "Having multiple businesses signed up to the free District Towns Gift Card is a great way to keep money circulating within the centres.
"It keeps spend local and helps businesses tie in together. Rewarding staff with the gift card is a great idea as it allows them to choose what they would like to purchase whilst keeping spend within the district"
Wendy Black, of Carron Valley Formal Dress shop in Denny, is another fan of the gift cards because "they keep local shoppers in the local area".
She added: "It is the variety of places that the gifts cards can be used, including many different shops, cafes, restaurants, beauty salons, hairdressers and more, that also make them such a great idea. There is a big variety."
In fact, there are more than 100 businesses in the Falkirk area which accept the District Towns Gift Card. It takes the form of a prepaid Mastercard, which can be used up to 12 months from purchase.
Falkirk District is one of the newest among 50 towns, cities and regions in the UK to join the Town and City Gift Card programme, from Scottish fintech Miconex.