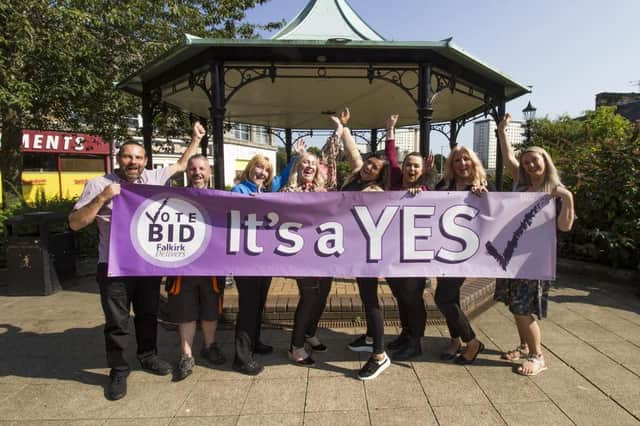 Falkirk BID will continue to deliver projects that will bring about improvements locally
Since the voting papers were issued on July 15, business owners in Falkirk have been voting to determine whether Falkirk BID continue to deliver projects that will bring about improvements locally with an improved business environment up to 2026. In the end, Falkirk Delivers garnered 87.4 per cent of the total "yes" votes, which is an increase of 18 per cent on the 2016 number.
"I am absolutely delighted at the resounding support and endorsement from the business for Falkirk Delivers BID," states Councillor Cecil Meiklejohn. "It recognises the huge amount of work that the BID has done to help and support the Town centre business, particularly over the last 18 months, during the most acute phase of the pandemic and on to recovery.
"The BID support will be vital as we continue with that recovery phase, and as we move forward with the masterplan of our Town Centre regeneration, I very much look forward to working in partnership with them ."
Falkirk Delivers has been in Falkirk Town Centre for three terms, and after securing a new team during the Covid-19 crisis, the town agrees they have seen a difference in the work they do in the town centre.
They've adapted to suit the current climate; when the UK entered lockdown in March 2020, the Falkirk Delivers team immediately responded to supporting the levy payer's needs. The team worked hard to provide up-to-date information and advice on a weekly and often daily basis to ensure they were kept informed.
They offered assistance such as:
- Signposting businesses to latest Scottish and UK Government advice, updates and financial support including support with grant applications to Falkirk Council. The team directly assisted over 150 successful applications.
- A free shop local delivery service was made available to allow businesses to continue to trade online. 4,000 parcels were delivered, saving over 25k non-essential miles with an estimated £100k in sales for the businesses in the lockdown from Christmas 2020 to April 2021.
- The Street Ambassador and handyman played a crucial role reporting issues and concerns while businesses were closed, distributing free PPE, social distancing stickers and parcels for businesses.
- Businesses utilised a variety of free training packages including their dedicated online training portal with 18 free training course and sign posting to different sites including Business Gateway.
- A town centre marketing campaign to welcome people back and reinforce social distancing and safety messages was successfully launched. There are further plans to continue this to help the town centre recover from the impact of COVID-19. This included a Welcome Back video featuring town centre business owners.
- Covid Marshalls were appointed to ensure social distancing in the High Street and support town centre business.
Elaine Grant, BID Manager stated: "We are so pleased that we have been renewed for a fourth term. We'd like to thank all the businesses who voted to keep us in the town. We've got a lot in store for our next term, but we're always open to hearing what our levy-paying business owners would like to see from us.
"It's been a tough few weeks campaigning to secure our place within the town centre, but we're confident that right choice has been made for ensuring Falkirk's future. We've got a new plan, a new team, and new goals for this coming term, and we hope we can have Falkirk's full support to ensure it."
Falkirk Delivers has shared its business plan outlining its proposed projects for the next five years, outlining objectives shaped by the local business community's feedback. These include:
- Additional Services: Business Support, Training & Savings
- It's Friendlier in Falkirk: Safety & Security
- Taking Pride in Falkirk: Clean & Green
- Let's Shout About It: Marketing & Events