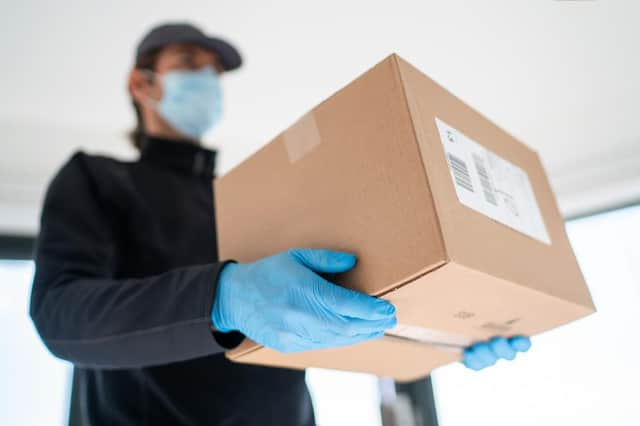 Free delivery, organised by Falkirk Delivers, benefits shoppers and local retailers.
More than 1,400 parcels have been delivered for free in the Falkirk area and surrounding districts since the start of January, equating to approximately 10,080 miles worth of non-essential journeys saved by the team for local consumers.
The option of free delivery, organised by local BID organisation Falkirk Delivers, has a two-fold benefit. It has given shoppers the confidence to buy from local retailers knowing that safe, free delivery was guaranteed no matter how small the purchase, and local firms have received vital revenue.
Launched on January 1, the scheme, which is open to town centre retailers, excluding food, and available to be used by customers within FK1, FK2, FK3, FK4, FK5, FK6 and EH51 postcodes, has been perfected over the weeks.
Elaine Grant (BID Manager) said: "Our businesses are our top priority, especially during this unprecedented period. Running a delivery service has allowed us to hit home with the Shop Local message and assist retailers in continuing to trade. With our team delivering, free of charge, we have hopefully lifted a weight off local business owners' shoulders and provided an unrivalled service to the public."
Local retailers using the service include: Catwalk, Geeks & Gamers, Glebe, Jolly Tots, Kicks for Kids, Piccolina, Scarlet Ribbons, Centre Stage Dancewear, Sisters and Misters, Party Rocks, Blue Lass Tattoo, Clever Clogs, Tom, Dick &Harry/Runway Boutique, Derek Harley Photography, Babes Boutique, Abuzz Mobility, Sheila's Sweets, Seagull Trust Cruises Bookshop and Heaven N Hell Tattoos & Piercings.
Leigh White, co-owner of Centre Stage Dancewear, said: "Falkirk Delivers' free local delivery service has been a tremendous help to us during lockdown. The feedback we have received from our customers has been so encouraging and provided us with great reviews for both our business and the Falkirk Delivers team.
"Many of the products we sell are small items, and with postage being so expensive, it makes it difficult for customers to justify buying. When delivery is free customers are happy to make the purchase, and I believe the service has encouraged customers to shop local and subsequently help small businesses like ours."
Zara Dickson of Blue Lass Tattoo added: "We've been promoting our merchandise and vouchers and having the delivery service by Falkirk Delivers has been a great help. Knowing that our customers are receiving a safe, speedy, service has been really useful during this time."
Kirstine McDonald of Glebe Fashion said: "I would like to thank Falkirk Delivers for initiating and implementing this service during these uncertain times. Our customers who have requested the 'local delivery option' via our website have had nothing but praise for the friendly and quick service provided by the dedicated team."
Marjory Sime, manager at Seagull Trust Cruises Bookshop added: "We were just newly opened when lockdown hit again. Knowing that books could play such a vital role in the mental health of many people trying to cope with the strain, we realised that we had to find a way to support our customers. Thankfully the Falkirk Delivers free delivery service came to our rescue."