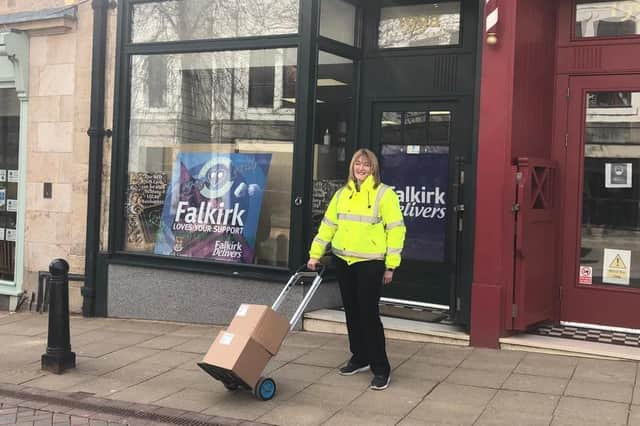 Falkirk Delivers has been supporting businesses starting to reopen by handing out hand sanitiser
Last year, in preparation of our town centres reopening, Falkirk Delivers conducted a survey to gather information on how shoppers habits will change on the return to the high street. With over 50 per cent of those responding to the survey stating that their future journeys into town would would be much shorter, we were keen to share this information with Falkirk Council to see what could be done to help both shoppers and businesses alike.
With parking costs starting at 50p for 30 minutes in Falkirk Council car parks, we hope that visitors will take advantage of the new tarriff and support the local businesses whether its a quick visit to their favourite shops, or to utilise the many Click n Collect opportunities in the town centre
Ringo is a free-to-use mobile app and the ultimate life hack. No more finding change or queuing with your ticket, all you need to do is add a mobile number, email address and password to register.
You can book parking in seconds by selecting where you want to park (each car park has a corresponding number which you will see on a sign within the car park), register your vehicle, select how long you want to stay and pay for your parking.
Ringo allows you to remotely extend your session. Lunch running late? No more running to the meter, you can add on extra minutes to the parking direct from your app.
Falkirk Council also offers a free after three promotion, where all the town centre car parks offer free parking after 3pm daily.
Sanitiser support for local businesses
Last Monday, many town centre businesses, including hairdressers and barbers, opened their doors. Falkirk Delivers supported these businesses by handing out hand sanitiser. Street ambassador Janice was on hand to deliver locally, and handyman Alan did the same in the district towns.
Elaine Grant, BID manager, said: "It's great to see so many businesses reopening and we're here to support them any way we can. With even more restrictions being lifted in the next few weeks, we're only at the end of the phone for any businesses needing an extra hand."