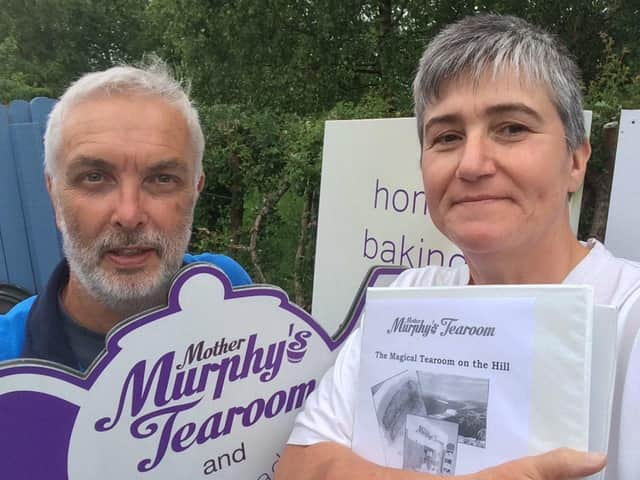 Jim and Debra Murphy have closed their tearoom in Ladysmill Falkirk but hope to continue their business online.
A popular Falkirk tearoom may have been forced to close its doors for good due to the pandemic but it's certainly not the end for Mother Murphy's.
Owners Debra and Jim Murphy took the difficult decision to close their Ladysmill premises earlier this month but they say this is just a new chapter for the business with exciting plans in store for the future.
The couple opened Mother Murphy's, affectionately known as the Magical Tearoom on the Hill, five years ago in what was a dream come true for Debra.
But having been forced to close in March due to the Covid-19 pandemic they have been facing a tough decision ever since.
Debra said: "I'm just heartbroken. It wasn't just a tearoom, it was a place for people to go. The tea and cakes were something extra. The people that we had coming in became part of our family.
"The tearoom is wee and we can only fit 16 people in normally. One of our strengths was that it was cosy, allowing people to come in to a place where they felt safe. It wasn't overwhelmingly busy, even when we were full we'd still be able to sit and chat.
"Now it seems our biggest strength is also our biggest weakness.
"With the restrictions and social distancing we would possibly be able to have four or five customers in at a time and that's just not viable.
"Our lease is up at the end of August so we had to make a decision."
The couple received a small business grant from the government to help during the lockdown period. However, rather than use the whole grant to pay rent and bills on an empty tearoom with no idea of when it would re-open they will use some of the money to allow Mother Murphy's to continue to trade online.
So what does the future look like for Mother Murphy's? Debra explained: "Before we opened the tearoom we had an extension for a kitchen at the back of the house.
"We were doing home baking and selling at farmers' markets and Highland games, that kind of thing. So we are looking re-visit that side of the business and build up an online business for our cakes, bakes, biscuits and afternoon teas.
"We have a good customer following for our gluten and dairy free cakes too.
"The fortunate thing is we're ready and geared up here as we have the kitchen. I used to do the baking for the tea-room here so we have the health and safety certification.
"Hopefully Business Gateway might be able to give me help setting up the online business and our Facebook page will just continue."
But it's not just offering tasty treats in an online service that Debra and Jim are working on at the moment.
"We're in the process of proofreading our book too," continues Debra.
"It's about the tea-room and the customers as well as having some of the recipes in it.
"It's the end of the building but definitely not the end of Mother Murphy's. Who knows what might happen two years down the line, maybe we'll be in another tearoom.
"We're one of the first to close in Falkirk and I think that's just tied to the lease being up.
"We've put in five years of building up the business and it's been my dream.
"I've loved the tea room. I have probably worked harder and for less money than I have ever done before but I've never been happier.
"You never knew what was going to happen each day and who was going to come through the door."
"People have gone away happier than when they came to the tea-room and that was what we loved."