New business and a new baby for Bonnybridge couple
While Covid-19 has brought highs and lows for everyone, one young Bonnybridge couple have been on a roller-coaster – with a new baby and a new business to cope with.
Friday, 14th August 2020, 7:30 am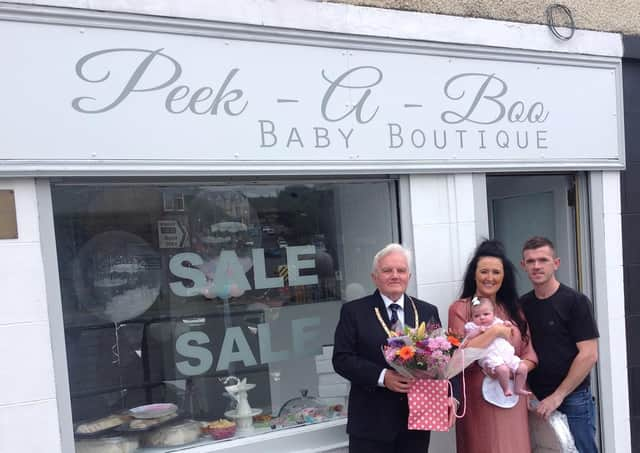 Provost William Buchanan officially opened Peek-A-Boo Baby Boutique. He is pictured with owners Conny Bannan and Michael Wallace with daughter Perrie.
Conny Bannan and Michael Wallace have finally been able to open their baby boutique at 8 Main Street – four months later than planned thanks to coronavirus.
After months of hard work the new shop, Peek-a-Boo Baby Boutique, should have opened one week after the lockdown was announced.
The delay left Conny and partner Michael with a big financial headache as much of the stock that had been 
ordered was for spring and summer and could not be sold.
However, it also gave them a chance to focus on a very
different and very special delivery – their daughter Perrie, who was born on April 16.
From birth, though, baby Perrie suffered badly from projectile vomiting.
"We were told it was just reflux but it went on and on," said Michael.
"We knew there was something wrong, so we kept pushing to get an answer."
After numerous tests, treatment and stays in 
hospital, after nearly eight weeks Perrie was diagnosed with viral meningitis. With the right treatment, she was soon on the road to recovery.
"She's 15 weeks old now and she's really well," said Michael. "So, while the lockdown was really difficult financially – 
especially for a new business – it actually worked out well that we could spend all that time with her."
The couple took over the shop on Main Street, close to Bonnybridge Toll, last July.
"We had to do a huge amount of work on it – we 
basically ripped it out and started afresh," said Michael.
Conny has worked hard to source brands that will be exclusive to the wider Falkirk area.
They now have big names such as Sarah-Louise along with her daughter's range, Dani, as well as Yoedu, BabyGi and Wedoble.
But they hope there will be something for everyone from mid-market ranges to 
designer babywear for special occasions.
Luckily, all was not lost in recent months as they set up Facebook and Instagram pages online which have had steady sales over the months.
"I think people will continue to shop online for the time being," said Michael.
"But I think the shop will be good so people can see where they are ordering from – even since we painted the shop front we've seen an increase in online sales."