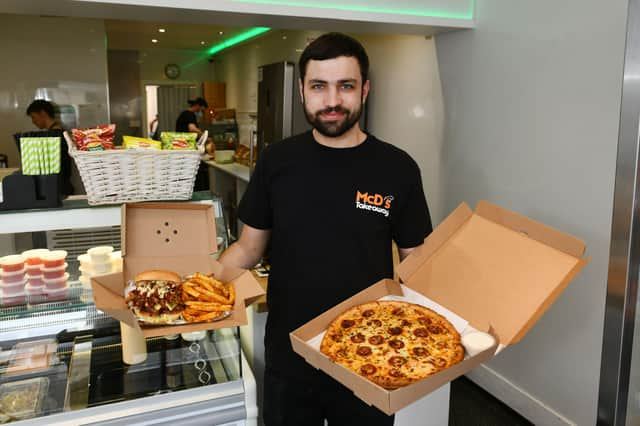 Marco McDonald and the team at McD's have been kept busy since the business featured in an online video by Rate My Takeaway. Pic: Michael Gillen.
Those behind Facebook page Rate My Takeaway paid a visit to McD's Takeaway last month recording their experience, reviewing the food and posting it on their page and since then the team at the Main Street business have been extremely busy.
The takeaway, which opened in December, is run by Marco McDonald and Mikey Kemp and serves a range of food from pizza and burgers to loaded fries and mac 'n' cheese.
The pair previously worked together and decided to open a business that served good quality, home cooked food like you would get in a pub or restaurant but to take away.
There's a wide menu choice at McD's.
The video of Danny from Rate My Takeway visiting the local takeaway has been watched almost 150,000 times on Facebook.
Marco (26) said: "Last week was the busiest week we have ever had.
"It was more than double our busiest week previously.
"We were always busy but this video has sent things absolutely crazy.
"We've had people from Glasgow, Edinburgh, Fife, Stirling, lots of places, coming in.
"Those from further away who haven't been in have been showing their support by messaging our Facebook page.
"The video was posted on a Sunday and we sold out of some things that night within hours.
"We are closed on a Monday and when we opened on the Tuesday there were people waiting outside before we had opened.
"We thought we had prepared as much as we could but it was crazy.
"We expected it to be busy and we expected people to travel but we weren't expecting it to be so busy that we sold out so quickly.
"We've been learning and are getting better at preparing.
"We've been doing three trips to the cash and carry a day to keep up."
"Thank you to Mikey and the team here including the drivers who make this business work every day.
"Thank you to the customers for their support and patience too."
Marco and Mikey have big plans for McD's in the future.
Marco added: "We're planning on expanding to a bigger building or possibly to pub or restaurant with an emphasis on food in the future if we can find a good location."
But for now the McD's Takeaway team is concentrating on keeping up with demand and continuing to provide first class food.