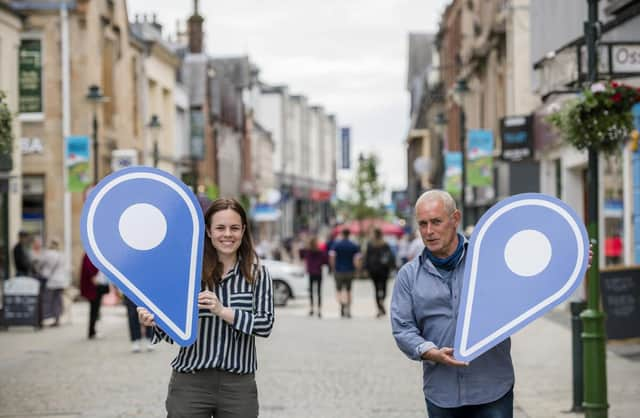 Kate Forbes and Phil Prentice get behind the Scotland Loves Local campaign
The call has been issued by the Scotland Loves Local campaign as the rallying cry for people to act now, think local first and support the people around them grows ever louder.
Throughout Falkirk, it is vital everyone gets behind the businesses in their community to ensure they not only survive but grow stronger.
Phil Prentice, Chief Officer of Scotland's Towns Partnership, the organisation spearheading Scotland Loves Local, said: "The need for us to choose local has never been more important.
Happy faces in High Street make it a great place to shop
"In Fakirk and across the country, by getting behind businesses of every kind in our communities – whether they be shops, cafes, restaurants, bars or services – we are investing in creating a better future, which is in all of our interests.
"Those behind them are people who have been there when we've needed them most throughout the pandemic. But they need us, just as we have needed them. Without our continued support they will simply not be there.
"Throughout Falkirk there are businesses that have served us for generations. By choosing local, we can all play our part in ensuring they are not lost for the future. It's something we can all feel good about."
A survey for Scotland Loves Local – which is supported by the Scottish Government - found that more than half (51%) of those questioned in a survey in the Central Scotland Scottish Parliamentary region agreed that the future of shops and services on their high street depends on the extent to which people in the area support them.
And 87% quizzed said that it's vital people support the businesses in their community as civic leaders look at how to make the area stronger in the post-pandemic world.
The Scottish Government is also supporting the rollout of the Scotland Loves Local Gift Card in every one of the country's local authority regions - providing another way in which people can choose to support and spend with businesses in their community.
The message is simple: Think local, act local, choose local for a better future.
Find out more about the Scotland Loves Local campaign at www.lovelocal.scot and by following #ScotlandLovesLocal and #ChooseLocal on social media.