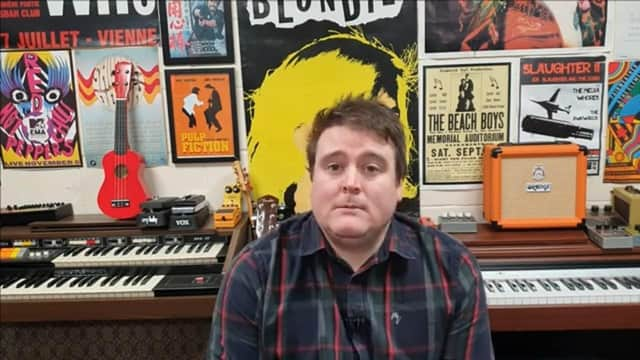 Dan McGibbon says he has been forced to walk away from The Bunker in Bonnybridge after Falkirk Council failed to support him during the COVID-19 pandemic
Dan McGibbon (29) admitted he is "disgusted" by the local authority's lack of support for The Bunker Music Rehearsal Studio, in Bonnybridge Industrial Estate, Bonnybridge, throughout the COVID-19 pandemic.
Due to the nature of his business, Dan, who has been running The Bunker for the last decade, has been unable to qualify for the Scottish Government's Strategic Framework Business Fund despite basically being the same sort of business as places that do fall within the qualification criteria such as yoga studios or gyms – places where people go to learn or practice something, just like The Bunker.
"I've not been forced to close as such," said Bonnybridge man Dan. "But the circumstances – with people being unable to meet up with those from more than one different household – mean I can't run my business.
"I paid my rent on time other than during the COVID-19 lockdown, when I couldn't. Falkirk Council's behaviour over the last year has been, at best, indifferent.
"While my competitors in neighbouring council authorities have received support and funding, my business has been left to die.
"It seems to view me as little more than an annoyance."
At the moment, if he walks away from the business – as he plans to do when his lease is up in May – he will owe the council almost £4000 in rent.
"In light of all this, Falkirk Council is insisting I pay every penny. When I asked if it could be flexible, it gave me a short answer and said it's not their policy.
"It has offered to let me pay it all back at another time, but my business is shutting down, so that means I will have to use my wages from any new new job I get to pay off rent I owe for a business that has now been closed for 70 straight days."
Dan says he is in talks with someone looking to take over The Bunker- and he definitely will not be returning.
"I won't be continuing with the business and don't want to have any more to do with Falkirk Council to be honest."
A Falkirk Council spokesperson said: "We understand how difficult and frustrating it is for businesses in the current climate, especially those who are not able to benefit from Scottish Government Strategic Framework Business Fund support.
"Where this is the case businesses are directed to apply to the Discretionary Fund where an award has been made to Mr McGibbon. There is ongoing advice and support available for any local business that needs it including a flexible approach to rent and rent arrears.
"However, like other local authorities we do not have a policy of waiving arrears but can support businesses to repay rent arrears over a significant period of time to match individual circumstances.
"A rental repayment was offered and agreed with Mr McGibbon and he has been advised this will be reviewed at the point he decides to sell his business or terminate his lease. Currently as agreed we are not requesting rental payments."