Every night on stage in Annie is like a family reunion for Falkirk actress Hazel
Some employers have a bring-your-family-to-work day but Captivate Theatre do not need to put an initiative like that in place for star actress Hazel Beattie.
Tuesday, 25th February 2020, 12:30 pm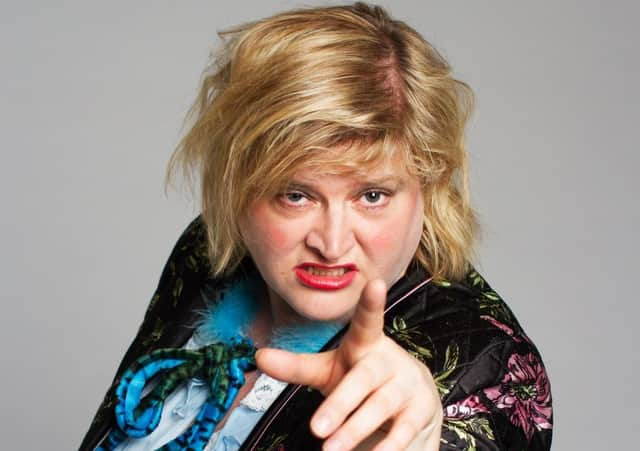 Hazel Beattie in character as Miss Hannigan in Annie the musical
When the well known Falkirk performer takes to the Falkirk Town Hall stage as Miss Hannigan in Captivate's production of musical Annie next week she will be joined by her daughters April and Violet and, as if that is not enough, her niece Faye Campbell.
Hazel said: "It is so special to be able to perform alongside my family – even if I am mean to them. April played Annie in the Edinburgh Festival shows and Violet is now taking on that role for two of the Falkirk dates, with Faye playing orphan Tessie.
"Thankfully I'm not as mean as Miss Hannigan at home. I was in the Falkirk Bohemians production of Annie when I was a little girl and I always dreamed of playing Miss Hannigan.
"It is so lovely to be able to have that opportunity in my home town."
Hazel said Violet is a very busy girl at the moment, not only is she playing the title role of Annie, she is also playing young Fiona in a production of Shrek the Musical at the Edinburgh Kings Theatre in March and Sarah Brown in Guys and Dolls with Falkirk Youth Theatre in June.
Annie, which will be performed at FTH on Tuesday, March 3, Wednesday, March 4 and Thursday, March 5, has enjoyed critical success following its run at the Edinburgh Fringe Festival and its subsequent tour.
It was been described as "rip roaring musical fun" and "a wonderful and family-friendly experience for anyone who knows and loves Annie, or, equally, for anyone who is new to the music and the story".
Critics have also praised the show's humour, choreography and "exceptionally strong vocal performances" which produce a "first-class musical which is a joy to behold".
Falkirk folk will certainly not want to miss "a great family show about the plucky orphan with the big heart" and sing along to the well known songs Hard Knock Life, Easy Street and Tomorrow.
'Director Sally Lyall said: "Annie is one of those shows people just seem to love, and we are delighted to be including Falkirk in our tour. The show has such great songs and is a real heart-warming story which we could all do with these days."
As well as Hazel and her talented girls and niece, the show also features standout performances from a cast that includes John Knox, Sandy Queenan, Craig Lowe and Catherine Bain.
The curtain goes up on Annie at 7pm each night,
Visit www.captivatetheatre.com or call Falkirk Town Hall on (01324) 506850.