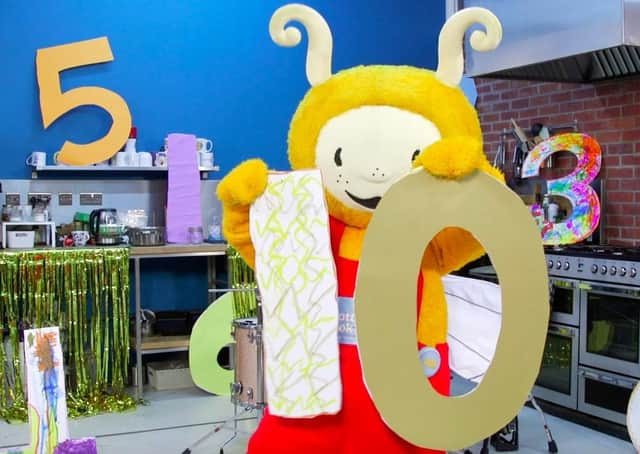 Many happy returns...help Bookbug celebrate tenth anniversary today on Facebook.
The charity will mark the milestone with #HappyBirthdayBookbug, encouraging families across Scotland to send their birthday wishes.
Bookbug Week is an annual celebration of Scotland's national book-gifting programme and Song and Rhyme Sessions.
There will be many ways for families to join in the fun at home, such as a daily drawalong with Bookbug's creator Debi Gliori, to learn how to draw Bookbug and friends. There will also be a special film with Debi, which explains how she created the character ten years ago.
New app...has been launched to ensure that Scottish Book Trust's Bookbug Week can still toast its tenth birthday.
The popular live Bookbug Session on Facebook will run today (Friday) at 10am for everyone to join in and sing happy birthday.
The first live session was a great success with more than 20,000 views.
For those who cannot join the live session, there will be an option to watch later or a celebratory session for families to try at home themselves.
Scottish Book Trust's home activities hub will be packed with more themed ideas to try at home, from making a party hat to colouring in sheets with Bookbug and friends.
Drawalong sessions...have been held with character creator, Debi Glior.
There will also be competitions on the charity's website and social media.
And Scottish Book Trust will be asking for families' memories of their child's Bookbug Bags and Bookbug Sessions with their little ones.
As always, families can access the song and rhyme library via Scottish Book Trust's website or on the new, free Bookbug app.
Marc Lambert, CEO of Scottish Book Trust, said: "We're looking forward to celebrating Bookbug's tenth birthday with families across Scotland through our website, social media channels and Bookbug app.
Celebratory week...has been organised online by the Scottish Book Trust so no-one misses out on the tenth party.
"We are extremely proud of the impact the programme has made in the last decade: from delivering free bags of books, to bringing communities together through sessions, to working with families at home who need our support to get started sharing stories and songs together.
"We'd like to thank all our colleagues from libraries, health, education, social care and the third sector for building Bookbug with us – it truly is a national partnership that shows how much we value books and value children.
"We look forward to receiving everyone's birthday messages for Bookbug and hope that families across the country join us to celebrate."
Building on the increasing demand for modern nursery rhymes, Scottish Book Trust commissioned Sprog Rock to develop a brand new birthday song which was launched on Wednesday.
The song was created through interactive nursery workshops earlier this year with Bucklyvie Nursery in Glasgow. The song centres around the theme of being ten years old, with nursery children contributing their own imaginative and creative thoughts about what that age means to them.
Maree Todd, Minister for Children and Young People, said: "I am delighted that we are celebrating the tenth anniversary of the Bookbug programme in Scotland.
"To date, it has provided well over six million books to children and helped families across Scotland to take part in Bookbug activities and enjoy precious moments of reading, story-telling and singing together.
"We know these are challenging times for families so it is heartening to see that the Bookbug online sessions are proving to be such a success.
"I am also pleased to see that this year's celebrations will be packed with themed activity ideas for families to try at home.
"I would like to thank Scottish Book Trust in delivering this wonderful programme and I hope that many families can join in the exciting virtual events and resources during this special Bookbug week."
Funded by the Scottish Government and Creative Scotland, Bookbug is Scottish Book Trust's Early Years Programme.
The programme encourages mums and dads to sing and share stories with their children from birth.
It gives every child in Scotland four free bags of books in their first five years, gifting more than 885,000 books every year.
Bookbug also runs free story, song and rhyme events in libraries and other community venues which attracted 720,000 parents and children in 2018/19.
Free, fun-filled story sessions
The Bookbug programme is managed by Scottish Book Trust and run in partnership with libraries, health professionals and nurseries.
It benefits from sponsorship from children's publishers and central funding from the Scottish Government through a grant from the Children and Families Directorate. It also receives support from local authorities, library services and health boards through the provision of local staff time.
More than 24,000 Bookbug sessions happen across Scotland every year.
These are free, fun-filled story and rhyme sessions for babies to four year-olds.
A targeted outreach programme, Bookbug for the Home, also trains early years staff to give support to families on a one-to-one basis. Since 2012, it has helped more than 14,000 families, encouraging parents to talk, book share and sing with their children.
Scottish Book Trust also supports the delivery of Dolly Parton Imagination Library in Scotland, with free books delivered monthly to every looked after child from birth to five years old.
Scottish Book Trust recently launched a new Bookbug app for parents or carers and children to enjoy together. The free app offers families across Scotland greater accessibility to rhymes and songs.
It can be downloaded from the App Store or Google Play.
Scottish Book Trust is a national charity changing lives through reading and writing. It inspires and supports the people of Scotland to read and write for pleasure.
In addition to funding from the Scottish Government and Creative Scotland, it is supported by trusts, corporate sponsors and donors.